Here is a soft and fluffy siopao dough that you can use. I have tried this dough so many times and had not failed in it. YOU CAN CUSTOMIZE THE FILLING  according to your taste. I have tried it with Siopao with Bola-bola (meatballs) filling and Pork Asado and loved them the same… Be adventurous !
Siopao is a Filipino version of chinese pork buns or steamed pork buns .It can be filled with various forms of stuffing, depending to your liking. It is so famous in the Philippines as snacks that you can see them sold in small stalls lined in nooks and sidewalks in Philippine streets. Char Siu Buns is cook by steaming and it can be stored by freezing. It can be easily packed for lunch and handy enough to bring several in the office to share with colleagues. I love char siu bao/siopao  so much, that I can eat 13 pieces of these…
 I am so excited guys! I am four days into going home to my country – Philippines. I have never been home for 13 years. And I cannot contain myself. I have so many questions about how my country have change, how my relatives have grown and how will my parents looks like in person. Wooooo hoo! I am planning to just chill and enjoy the beaches . I am not gonna use an umbrella just like I did before but simply savor each Philippine heat. I am also going to intorduce my son to his grnadparents and let my children see how big of a family they got. There are so many things to do…
 My parents have not seen my youngest son and my daughter left the country when she was two years old. Then, they will see me looking so heavy as I am today, so they will be in for a big surprise. I cannot imagine how big their eyes will look like seeing me as huge as this. And since siopao is B.I.G. in the Philippines,  I will be seeing a lot of bbq pork buns there too. Char Siu Bao  in any forms and filling. Another yeyeyeeyeyeyeeyeyhey!!!!
I have not packed yet, but I am busy making these siopao for me to bring to the airport as breakfast. But they did not make it to the airport as planned. The siopao was gone after two days. I think my husband purposely ate all of it because he does not want me to look like an idiot in the airport. Who brings pack meals in their travels, anyway. My husband packed it to work and ate it with his breakfast coffee (I promise you, I was surprised too when I saw that). After 15 years of marriage , my husband still surprises me.
These siopaos are moist and soft. They are perfect to eat right away after steaming but you can freeze them too. Just let it sit on the counter for a few minutes and  wrap it with moist paper towel and heat for 1 minute and you are good to go. As for myself, I want to keep on steaming it so that it will be endlessly fluffy and moist 🙂
Okay, got to go now. Brace for some Philippine photos or, no incoming post for the next two months – I will try to post as much as I can though… Okay – MABUHAY ! ( LONG LIVE ).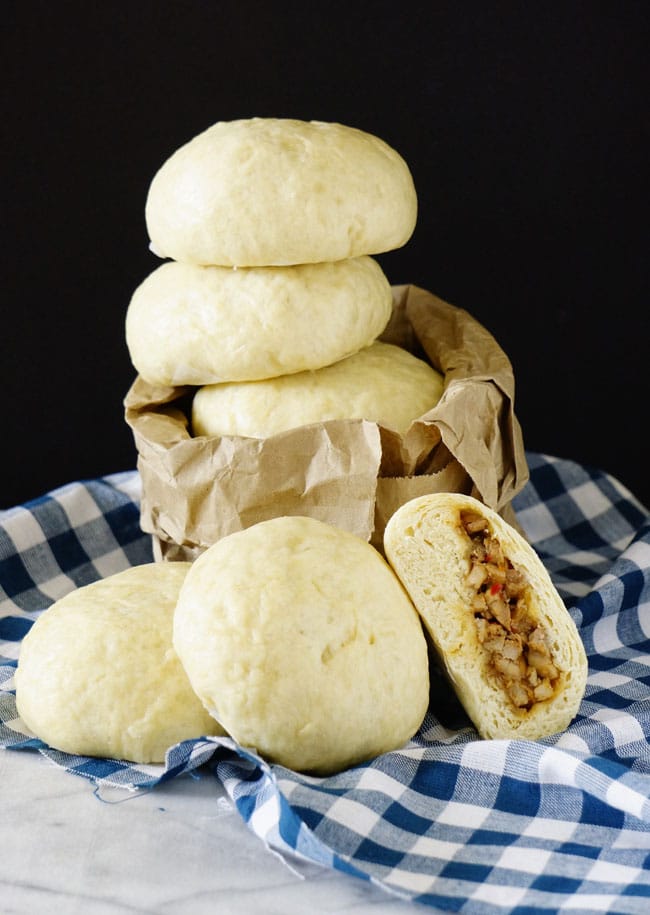 Check the Chinese Pork Barbecue, How to Clean Leeks and these recipes that has Hoisin Sauce and Leeks in them: Chicken Buns with Chicken Breast Filling, Honeyed Chicken Wings, How to Clean Leeks, Shrimp with Leeks .
Soft and Fluffy Siopao Recipe
Servings: 7-8 • Serving Size:1 siopao • Old Points: 7 • Points+: 7 • Calories :355• Fat: 3.3 g • Protein: 9.2g • Carb: 59.2g • Fiber: 2.9 g • Sugar:7.9 g • Sodium: 885mg
Ingredients
FOR THE DOUGH:
3 cups All Purpose Flour flour plus ⅓ cup all purpose flour (separate use)
¼ cup white granulated sugar
1 teaspoon salt
2¼ teaspoon Rapid Rise Highly Active Yeast (or 1 packet of Rapid Rise Highly Active Yeast)
2 teaspoon baking powder
⅔ cup milk plus ⅓ cup (separate use)
½ cup water
1 egg (room temperature)
2 tablespoon melted butter
FOR THE FILLING:
1 stem leek or 1 small red onion, chopped
⅔ cup of red or orange bell pepper,finely chopped
¼ cup fresh cilantro,finely chopped
1 teaspoon sugar
¼ cup Hoisin Sauce
4 cups char siu/ Chinese Barbecue link here
⅛ cup cooking oil
Instructions
Grease a large bowl with cooking oil set aside- we will use it to rise the dough.
Place 3 cups flour,granulated sugar,salt,baking powder and yeast in the mixing bowl and mix completely using a wire whisk.Set aside.
Place the additional ⅓ cup flour, ½ cup water and ⅓ cup milk in a small sauce pan and mix with spoon or whisk to incorporate, then heat it a low fire until pasty in texture ( as shown in the photo above).
When the flour is already pasty, add it to the 3 cups flour mixture.
Place the butter in a microwave safe cup and heat for 1 minute or until the butter is lightly melted and pour into the mixing bowl.
Heat the ⅔ cup of milk in the microwave for 1 minute and add into the mixing bowl. Mix all of the ingredients TWO TO THREE TIMES using the electric mixer THEN add in the egg
Mix the dough using an electric mixer with a hook on. Mix until it will for a fluffy and soft dough. NOTE: You will notice that the dough is not mixing well, but continue mixing because eventually, the dough will become soft and smooth.Transfer the dough to the greased bowl and let the dough rise in a warm place for around 1 hour.
TO PREPARE THE FILLING:
Heat the oil and add in the leeks/onion until it turns transparent. Add in the chopped pepper and Pork Char Siu and mix. Let the veggie flavor incorporate with the meat by cooking for 2 more minutes. Add in the Hoisin Sauce and sugar and mix. Cook for 2 more minutes. Add in the cilantro and mix. Turn off the heat and let the filling cool.
PREPARING THE SIOPAO OR PORK CHAR BAO:
When the dough had risen after an hour, form the dough into a small log and cut it into 7-14 small balls-IN MY CASE, THIS RECIPE YIELDED 14 LARGE SIOPAO .Using your hand, flatten the dough and place the filling on the middle. Seal the dough on the edges and arrange it on the steamer. Do the same to the remaining dough.
COOKING THE SIOPAO:
Cut parchment paper into 14 pieces. Around 2x2 size
Boil 4-10 cups of water and steam the siopao for 20 minutes. You can freeze these siopao and microwave it wrap with wet paper towels and heat it for 1 minutes before eating or steam it so that it is soft and fluffy.